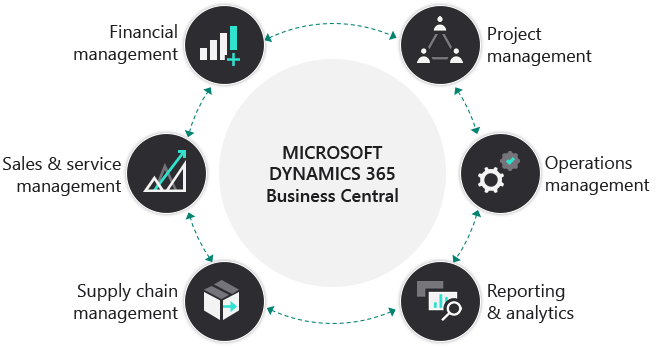 Automate and Streamline your Business Processes.
Microsoft Dynamics 365 Business Central is a comprehensive business management solution designed for small to medium-sized businesses that automates and streamlines business processes and help you manage your business. If you are looking for a comprehensive business management solution, you need to consider Dynamics 365 Business Central. It is simple to adapt and use, assist you in business collaborations and lets you make smart decisions.
Microsoft Dynamics 365 Business Central Features
Financial Management
Organize all data across purchasing, inventory, sales, accounting, and customer service so as to give a complete idea of your business. Chart real-time monetary performance with in-built Power BI dashboards.
Project Management
Monitor resource levels by organizing sales and capacity. Track invoicing for clients against planned expenses. Make efficient decisions with a real-time understanding of entire project statuses.
Operations Management
Give a complete view of the portfolio for effective order fulfillment. Track each item's movement and transaction, while achieving optimal output levels.
Reporting and Analytics
Refine financial predictions by analyzing and modeling data across numerous dimensions. Modify reports with unified Microsoft Excel integration.
Supply Chain Management
Make use of in-built intelligence to predict what and when to replenish. Buy only what you require with enthusiastically updated inventory levels. Propose substitutes when required items are unavailable.
Sales and Service Management
Manage service requests, act instantly on sales-associated inquiries, and process payments-perform all these within Outlook. Know an outline of your workloads, tasks, and employee abilities to efficiently assign resources.
Get Started